Education University School Fee Planning
Expat Hong Kong
Aberdeen University announces £9k fees
for students from rest of UK
English, Welsh, and Northern Irish students could pay up to £27k but fourth year will be free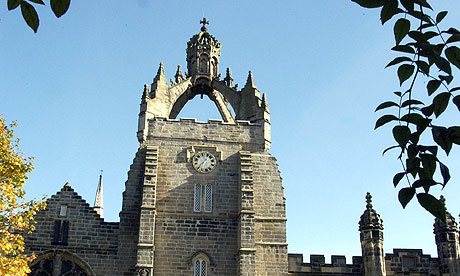 The University of Aberdeen has announced it will charge increased fees for students from the rest of the UK. Photograph: University of Aberdeen
The University of Aberdeen has become the first in Scotland to announce increased fees for students coming from the rest of the UK.
From next year, annual fees will be set at £9,000 but the fourth year will be free, meaning the total cost will be capped at £27,000.
The decision follows an announcement by Scottish Education Secretary Michael Russell in June that universities will be able to increase fees for students from England, Wales and Northern Ireland.
It was prompted by the UK Government's decision to raise the cap on fees south of the border.
The SNP Scottish Government was elected on a pledge that it will not introduce fees or graduate contributions from students who live in Scotland.
Professor Iain Diamond, principal of the University of Aberdeen, said maintaining fees at the current level – about £1,800 a year for most degrees – is no longer possible.
He said: "Given that we are one of the world's top 150 universities and our graduates enjoy some of the best starting salaries in the UK, Aberdeen must remain an academic destination of choice, without disadvantaging those who wish to enjoy the benefits of a four-year Scottish degree.
"As a result, the University of Aberdeen has decided that rest-of-UK students will pay no more than £27,000 for a four-year degree programme, but that the rate per year is set at £9,000."
Legislation must be passed at the Scottish Parliament before the university decision can be rubber-stamped.
Source: guardian.co.uk
Education University School Fee Planning
Expat Hong Kong
Hello, would you like to ask us a question or receive further information so that you can explore further how to fund education costs for your children.. Then please provide your details; and we will be please to contact you.
Thank you. My team and I will contact you shortly. Alternatively please call +852 5307 3732 we look forward to talking with you soon regarding your enquiry into education fee funding.